Our Commitment to Quality, People & the Passion for What We Do
What We Do
We're a group of people just like you, that have come together with a common mission of providing peace of mind through reliably connecting those around us to one of life's most basic needs – electricity
How We Do It
Electricity has become essential to modern life, which is why we've set our sights on being the leading transformer manufacturing and substation services company in the industry, and one that continuously improves the performance, delivery and reliability of power to meet the energy needs of the future.
Why We Do It
As an employee-owned company, we believe Delta Star's diversity is its finest strength, with employees being the key to success. We're committed to continually developing and enhancing an environment of progress, ownership, worth, excellence, and responsibility, placing the needs of those we serve at the center of all that we do.
Progress
We have an uncompromising focus on meaningful impact by combining our rich industry history with a spirit of innovation.
Ownership
We hold ourselves accountable in all of our efforts and operations.
Worth
We put our internal and external customers at the center of everything we do, to create a best-in-class experience that surpasses all expectations.
Excellence
We have high standards for ourselves, we execute on the details and take pride in the challenging work that we do.
Responsibility
We act with honesty, integrity, and thoughtfulness.
Our History
We have a rich history of putting the people we serve at the heart of everything we do.
The Beginning
1908

Delta Star was originally founded in Chicago as the Delta-Star Electric Company manufacturing electrical devices in the generation, transmission, and distribution sectors. Early products included a line of high-voltage indoor and outdoor switches including disconnects, transfers, interrupters and disrupters for single and group operation.
Advances In Technology
1935
The company's fame for improvement and development of substations spread to the federal government when in 1935 Delta-Star Electric was contracted by the government to produce what was considered at that time, the largest disconnecting switches ever built. In the same year, the Hoover Dam contractors solicited Delta-Star Electric's help to manufacture a disconnecting switch able to handle 286,000 volts. These were the largest air-break switches ever made, weighing 15 tons each. The company made continued technological advances between the years of 1913 and 1950, patenting over 87 inventions.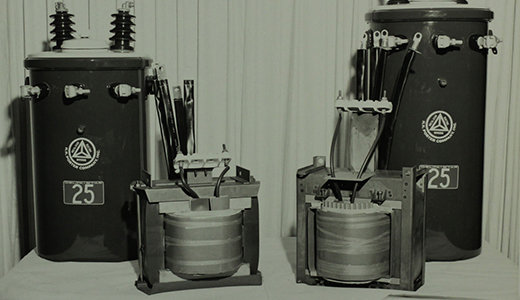 Product Expansion
1950

Delta-Star Electric Company is purchased by H. K. Porter Company and subsequently renamed the Delta-Star Electric Division of H. K. Porter Company. Locations were then added in Belmont, California and Lynchburg, Virginia.
The First Mobile
1976

Delta Star successfully deploys its first mobile power transformer to Withlacoochee River Electric Cooperative, Inc. Since this time, the company has manufactured and deployed more than 800 mobile substations and mobile power transformers throughout North America.
New Beginnings
1988
Delta Star separates from H.K. Porter Company and becomes an Employee Stock Ownership Plan (ESOP).
Celebrating a Milestone
2008
Delta Star, Inc. celebrates 100 years in the electrical industry as a world-class manufacturer of medium-sized transformers and a wonderful force in the community.
Field Service
2010
Delta Star expanded its capabilities and introduced Field Service as a standalone division, offering full-service packages to minimize future unscheduled maintenance and optimize the life of the transformer.
Acquisitions
2015

Delta Star acquires a transformer factory located in Saint-Jean-sur-Richelieu near Montreal, Quebec. The plant, formerly owned by Alstom, provides Delta Star's customers with a third location to build power transformers.
Service Growth
2020
Delta Star Field Service celebrates 10 years of transformer service to utility, cooperative, and municipal customers across North America.
Learn More About Delta Star